There are three clubs to focus on ahead of the next two match weeks: Manchester United, Arsenal and Manchester City.
Manchester United have double matchweek 22, as do Leeds United, while Arsenal and Manchester City both double in matchweek 23, so ideally you'll need three players from each of their teams.
Marcus Rashford, Luke Shaw and Bruno Fernandes will be the most popular United hat-tricks, although Fernandes might be a little difficult to achieve without selling one of your other premium players.
If that player is Mo Salah, I think it's an easy decision for you this week – Fernandes for Salah is a no-brainer.
If that player is Kevin de Bruyne, you can easily swap him for Fernandes this week to take advantage of United's double before heading straight back to the Belgian for City's double in 23.
The only problem with that is that you burn two transfers and Fernandes then face Leeds and Leicester in the next two matchweeks, so if he did the trick for you in matchweek 22 you might be reluctant to sell it.
So maybe you want both? How about selling Harry Kane, making money by opting for Eddie Nketiah or Wilfred Gnonto, who have a double game week for Leeds in 22, then moving on to De Bruyne or Fernandes you need?
Likewise, you might decide that you don't need Fernandes this week, especially if you don't plan to give him the captain's armband.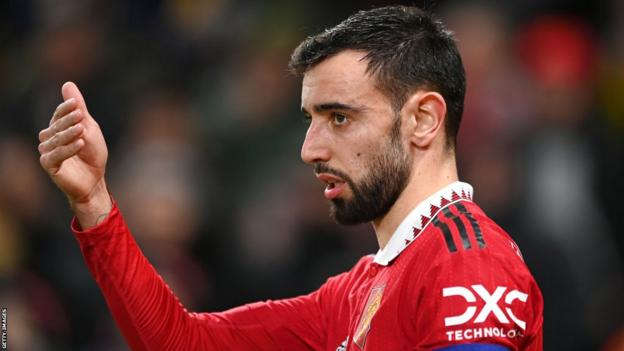 It will also be one less issue to deal with in matchweek 25 when Manchester United have a white due to their involvement in the Carabao Cup final. Newcastle, Brighton and Brentford are the other three teams that lost this week, so don't forget to factor that into your planning.
There is also a bit of discussion in the FPL community about whether we should use our treble captain chip on Marcus Rashford for his home games against Crystal Palace and Leeds or wait a week and give it to Erling Haaland for his double against Aston Villa and Arsenal.
As good as Haaland is, I think I would lean towards going with Rashford who is in the form of his life and seems to have the friendliest games given he doesn't have to face the league leaders who are boast the second-nastiest defense in the division.
Bruno Fernandes could also be worth considering as a differential triple captain pick, particularly if he's going to pick up potential penalties for United.
On Arsenal whose players are going to be invaluable to you as we already know they won't be empty in match weeks 25 or 28.
I have Ben White, Gabriel Martinelli and Eddie Nketiah in my team but I now prefer the idea of ​​having three attackers, namely Bukayo Saka and Martin Odegaard with Nketiah. I wouldn't take a four run hit to go from one Arsenal asset to another, but if you don't have other issues to deal with in your team, I wouldn't be opposed to that lateral move with a free transfer.
As for Manchester City, I'd be very surprised if anyone reading this doesn't already own Erling Haaland, Kevin de Bruyne is your next best bet if you can afford it, but there's no obvious answer for our third choice of City.
Personally I would jump on the Riyad Mahrez bandwagon, he starts regularly and when he does we know points will follow, but you also have to be prepared for it to go off the rails at any moment.
Jack Grealish seems to be Pep Guardiola's preferred choice on the left at the moment, but his skills don't always translate to big FPL runs.
The problem is that the defense haven't produced the regular clean sheets having only managed two in the last eight Premier League games. If you're convinced that's going to change, John Stones would be my first choice if he's fit, but Nathan Ake and Rico Lewis are going to get more playing time now that Joao Cancelo has left for Bayern Munich and Lewis represents value amazing at just £. 3.9m.
You can just play it safe by going for Ederson, but he's expensive and you know he won't rack up many saves or bonus points.
In the slightly longer term, Aston Villa and Chelsea will also be good clubs to invest in as they will both certainly have fixtures in matchweeks 25 and 28, so it will be interesting to see if Graham Potter offers a consistent line-up of Chelsea with all her new toys.
Alistair Bruce-Ball presents the Fantasy 606 podcast alongside former Premier League winner Chris Sutton and Statman Dave. The latest episode featuring a preview of Game Week 20 is available on the BBC Sounds app.